What 7000 Businesses Teach Us About Inbound Marketing
How much more work yields the biggest marketing bang?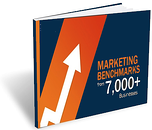 Good inbound marketing takes work, but what's the perfect cost-benefit ratio to get the biggest bang from your social networking and blog marketing efforts? Pertinent questions like these, and more, are answered in our latest study based on real customer results:
How much more do I need to blog per month to increase my website traffic?
How will increasing the amount of content impact my lead generation?
How much will growing my Facebook reach improve my website traffic?
This free report dives into how you can increase both traffic and leads using social networks like Twitter and Facebook as well as a strategic blog content generation plan. Looking at each benchmark by target market and company size, you'll walk away knowing how much more effort is "enough" to see the results you need.