SEO Lead Generation: Why Don't More People Find You?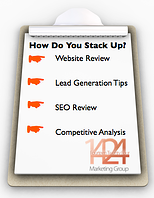 Don't know? You aren't alone. Taking site visits and lead generation to the next level starts with understanding where you are now vs. both your competition and how ready you are to tweak things to build traffic. As part of your review, 1424 will evaluate your current website and then we'll show you how you can get more traffic and leads. Our marketing assessment will show you where you stand today and what strategies can help you:
Appeal to the right people.
Appear in the right places.
Arrive at the right time.
You can hit this marketing trifecta by using the tips provided in our marketing assessment to make the most of your SEO opportunities and to create high-converting marketing offers. If you'd like this free assessment, please fill out the form to the right. We'll be in touch soon!